If you've spent any time on Video Game Twitter over the past week you'll have likely seen the industry collectively lose its mind over Trombone Champ, an absurdist rhythm game from indie studio HolyWow that asks players to cover iconic (royalty free) tracks from greats like Beethoven using a honking virtual trombone.
The end result is comedy gold, with a huge chunk of would-be musicians blazing through performances with the unruly bombast of a vexed goose. Since a few tweets showing the game in action went viral, it feels like Trombone Champ has become omnipresent. There's something undeniably watchable about the title, which features chaotic wide-eyed avatars that appear to be suspended in a state of perpetual delirium while grappling with their big brass tooter, despite being regularly pelted with somewhat critical feedback such as "NASTY!" and "MEH." 
As the cacophony of noise around Trombone Champ (somewhat appropriately) refuses to abate, we sat down with HolyWow founder Dan Vecchitto to discuss what that apparent overnight success means for the wacky toot 'em up, how the small studio fleshed out the project by tossing out the design rulebook, and whether viral fame translates into actual sales.
Game Developer: Alright, let's take it from the top: what inspired you to make a trombone-themed rhythm game? Do you personally have an affinity for the telescopic tooter, or was it just a left field idea that grabbed you?
Dan Vecchitto: The latter! It was just a funny idea that came to me one day. The original idea involved a trombone peripheral, and I didn't think it would be possible for me to pursue. Later, I realized that I might be able to emulate the motion of playing a trombone by having the player move their mouse forwards and backwards. I built a small prototype, which ended up being pretty funny, and decided to turn it into a full game.
Could you talk about how Trombone Champ took shape during the early days of production? What did the project look like when you first stepped into the development trenches, and how did it evolve as you refined the idea?
The very basic gameplay concept never changed that much, from start to finish. Obviously the graphics got much better – the first prototypes used 2D sprites for the players, didn't have any background art, and didn't have any particular look-and-feel. The biggest changes came once I decided to expand on the basic idea. I was concerned that if the game was nothing but the music element, people would be able to power through all of the songs in 45 minutes and have no more content to discover.
I started off by adding collectible cards that they could purchase with points earned from the main game. Later, I decided to add a little story element, which kept growing and growing and growing. The final game is an admittedly messy collection of many, many ideas. Probably too many ideas!
How did you shape and hone the core tooting mechanic with a view to finding the fun and keeping players engaged?
The great thing about Trombone Champ is that it's funniest when you perform poorly. It's basically a game built around failure! So I didn't need to worry too much about each level being perfectly-crafted experience. There are some indie platformers that are similar – they're designed to be impossibly hard. It's technically "bad design," but it works! That's their hook. Trombone Champ is vaguely similar.
The cards and storyline content were designed to keep players engaged for an extended period of time. And we didn't skimp on the jokes… if we had a funny idea, we put it in. No ideas were off the table. Even the loading screens are essentially a vehicle for jokes. The goal was to bombard the player with jokes from all angles.
There's a barmy energy to Trombone Champ that's clearly struck a chord with both players and onlookers. Could you walk us through how you designed the game's Mii-esque characters and barmy visual elements to spark joy?
The character models themselves aren't original creations, they're from the Unity asset store – however, we dramatically reskinned them to give them funnier, muppet-like faces and clothing. This was our first time working with 3D graphics. All of our past games have been 2D. It was actually really fun animating the characters, and it's funny how much joy you can spark with animation alone. It's fun simply seeing the characters bop around to the tempo!
Overall, the look and feel is very joyous, without restraint. There are rainbows everywhere. Almost every song ends with confetti, and almost every GUI element is in motion – even headlines. We spent a while (maybe too long) polishing the GUI and making it feel "fun."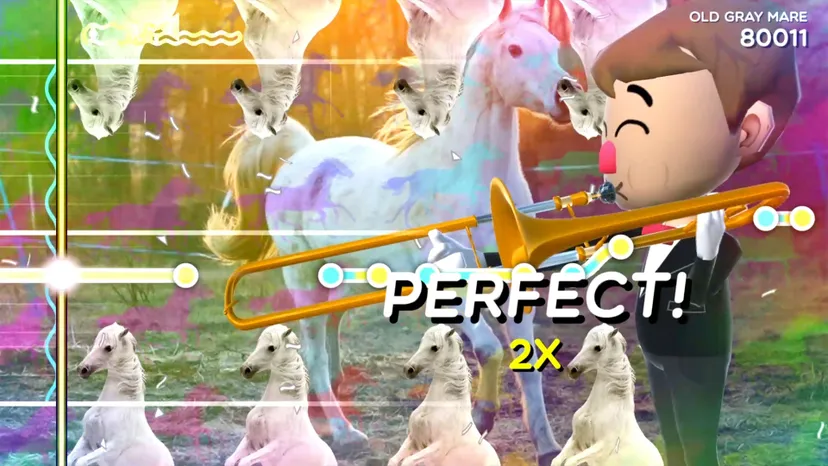 Following up on that quickly, how did you decide what adjectives to pelt at players while they toot, because "NASTY!" feels like a masterstroke?
I don't remember! We had a lot of fun with words in this game. "Baboons" play such a big part mostly because the word "baboon" is funny. Likewise, the currencies are called "toots" and "turds" because those words sound funny together. We originally planned for difficulty levels, which would be called "baby" (easy) and "bonkers" (difficult). Words themselves can be really fun!
Trombone Champ officially launched on September 16 and has blown up on social media in the week since. Huge personalities from around the industry have been talking about the game, and The Game Awards organizer Geoff Keighly is even pitching a potential collaboration. As a small indie studio, how has that surge in interest impacted you?
It's impacted us in a huge way! We hoped the game would perform well but did not expect even a fraction of this response. The game will literally shape our lives in the short and long term. It's definitely a blessing, but at the moment, it's also slightly a curse, as it's an unbelievable amount of work for us to keep up with. We both still work 9-5 jobs and are attempting to deal with this during nights and weekends. It's unsustainable!
I'm also curious to know whether the seismic social media buzz has impacted sales — are you seeing a correlation between the two?
Definitely, and that's surprising! We've had a lot of previous projects go viral without us making a cent from them! In fact, most of our projects to date have probably lost us a significant amount of money when you think about how much time, effort, and materials we spent on them.
Finally, you mentioned on Twitter that you now intend to take the game farther than you initially planned. Could you discuss what that means for Trombone Champ as a project and Holy Wow as a studio?
We have a lot of game ideas we'd love to develop in the future. Probably too many to develop in a lifetime! Our original intention was to release Trombone Champ, update it gradually for a number of months by adding songs, accessibility settings, widescreen support, etc, and then probably move on to another project. 
Porting it to consoles seemed like a possibility, but only if it performed really well. Well, needless to say, it's performing really well, so we're going to think much more seriously about stuff like console ports, VR versions, bigger expansions, and more. Basically, we're going to end up spending more time on this than we originally thought we would!