Perhaps your design team is currently neck-deep in one of the busiest seasons they have experienced. Or you're looking for a way to help you build out your presentation package to really captivate your audience. No matter the reason, partnering with a visualizations team will always be the simplest and most effective solution to help you read that sales goal and win that bid. 
Today, we're fortunate to be able to sit down and chat with Harony Sierra of the KiSP Inc. Visualizations Team. From photorealistic 2D renderings to full blown virtual showrooms, the visualizations team can do it all and more. So join us in hearing from the expert herself and what you should look for when outsourcing to the right visualizations team. 
Q1: Hi Harony, thanks for joining us today. To start, what would you say are some of the main differences between hiring a team of designers to create and render in-house versus outsourcing to say your team?
I would say one of the biggest and most notable benefits is how we can provide the high-quality professional support your teams may need, especially during the busiest of seasons. Since we are designers ourselves, we can understand how these seasons are unpredictable and can quickly overload design teams and further backlog other projects. By hiring a visualizations team, you can rest assured that you're working with experts in the field, and will be able to achieve high-quality results without adding further stress to your design teams and allowing them to focus on another project. 
Another benefit worth mentioning is visualization teams are those perhaps most familiar with brand new technologies and techniques that will take your visuals to the next level. Whether it be creating a virtual remote showroom to interactive animations and elements, these teams will be working with the most up-to-date technologies and can help you create projects that will communicate your designs effectively in the most captivating way. 
Visualizations teams like ours at KiSP Inc. are professionals devoted to creating stunning visuals and have decades of experience breathing life into your vision. And while we regularly work with returning clients, many have chosen to work with us who may have never outsourced their projects or come to us with their first projects. We're happy to guide you in any way, share any advice on how to better showcase your products, as well as offer the best plans of action based on cost-benefit. So whether you're completely new to the concept of outsourcing to a visualizations team or have yet to take the plunge, you can always start a conversation today to learn more with no strings attached – we'd be happy to chat with you. 
Q2: What would you say are the top 3 characteristics to look for when considering a visualizations team?
Firstly, I would advise you to take a look at the team's portfolios and projects they have shared on their website or on social media. Check also whether they share the idea or concept a client asked of them and the result. This helps you better gauge their talent and experience in delivering high-quality renderings and is the key element of an experienced visualizations team, and one that you would want to work with. 
Secondly, look into their speed and turnaround times because deadlines are the backbone of any project or request. Whether you're not subjected to massive time pressure or may be under a huge time crunch, this information is very important to know. A team that can easily perform under pressure and hit every deadline successfully is worth its weight in gold.
And finally, get a sense of their level of expertise. While this may be scouring their website a little longer, I'd highly encourage reaching out to the teams directly. This will help you get a better holistic sense of the team, such as their level of customer service or whether they are pleasant to talk to. A well-formed, creative, precise, and detail-oriented team that cares a lot about the work they're doing and gives to the client the best experience, it's hard to find.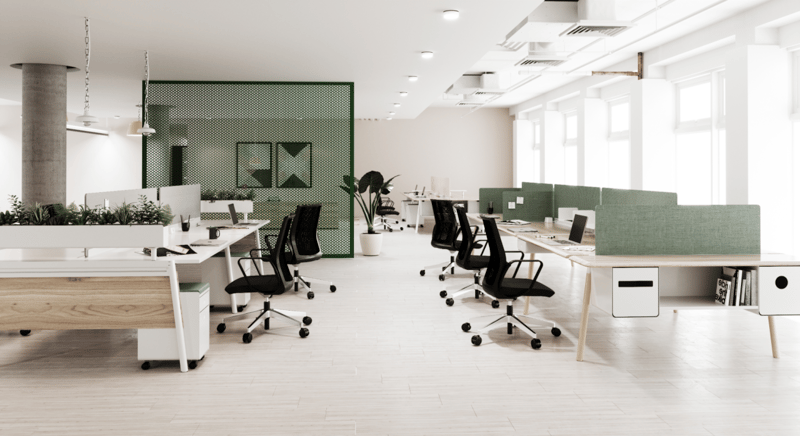 Q3: In your experience, what are some reasons or scenarios clients reach out to partner with your team?
The most common and recurring reason is when our clients are looking to communicate and help their clients visualize their space in full detail and accuracy – they come to us to make it happen. 
Most customers, let alone people, are not familiar with technical drawings like floor plans, cross-sections, etc. To the untrained eye, these visuals, while helpful, can be really difficult to decipher and read. That's why we create high-quality imagery to help them better communicate the options our clients are proposing to them and do so in a way they can best understand. 
And finally, depending on the RFP or BID stage, our clients come to us when they want to add greater impact to their presentations. Beyond 2D renderings, our services include panoramic views, virtual reality, and fly-throughs that can deliver a greater "wow" factor to the presentation package. 
Q4: For those who have yet to work with a visualizations team, what can they expect? Is there anything they will need to prepare before your meeting?
Yes, the most important thing is to have all the documentation as up-to-date as possible. Here is what you will need –
3D files
List of finishes
Delivery date
Scope of the project
Our team will help you draw up a plan of action on timeframe and budget. And don't worry, a good visualization team will help you find the best solution for your team and your needs. 
Q5: 2D renders are perhaps the most standard visualization tool. What are some tools that you have seen provide a powerful presentation outside of 2D rendered images? 
A service that just feels relevant right now is Infinite Showrooms. They are essentially a virtual showroom – a way for you to create and show off products without a physical showroom, and is accessible at any time, anywhere. Many of our clients felt (and perhaps you can relate) there's never enough space in a showroom. With our Infinite Showroom, you can build as many space/layout options as you like, edit them and collect them for your portfolio. And because they are presented in full 360, you can view them in VR or a browser for an immersive effect, just like a Yulio project. Infinite Showrooms are created with your product symbols – they can be placed in a custom environment, or they can save by using one of our existing spaces. 


2022 Virtual Showroom for Malibu Boats
Another service we previously shared is our Animations. This helps give an engaging overview of your products, and is particularly useful when you're presenting in large spaces, or looking to show off multiple furniture configurations. This is especially invaluable for our clients where reconfigurations with the same products are their major selling point. 
Virtual tours are also another popular service that is able to add an extra punch to your pitch and presentation package. Once an environment has been created, a virtual tour can be choreographed with a fly-through or other effects. These are best used when you want to provide an overview of how spaces fit together or for a semi-guided tour where you can't be in-person to present and are remotely submitting a proposal.
Last but not least, is our Cloud9 Service. Cloud9 will serve as the holding place for all projects we create for you. This is a complimentary service that you can get with a minimum amount of renders per month. Whether you're at the office or on the go, our clients are able to log in to their account from any device and instantly access their entire portfolio. From past projects to current ones, they can easily reuse designs to inspire new customers researching for upcoming projects, and by accelerating the sales process and saving money in the long run.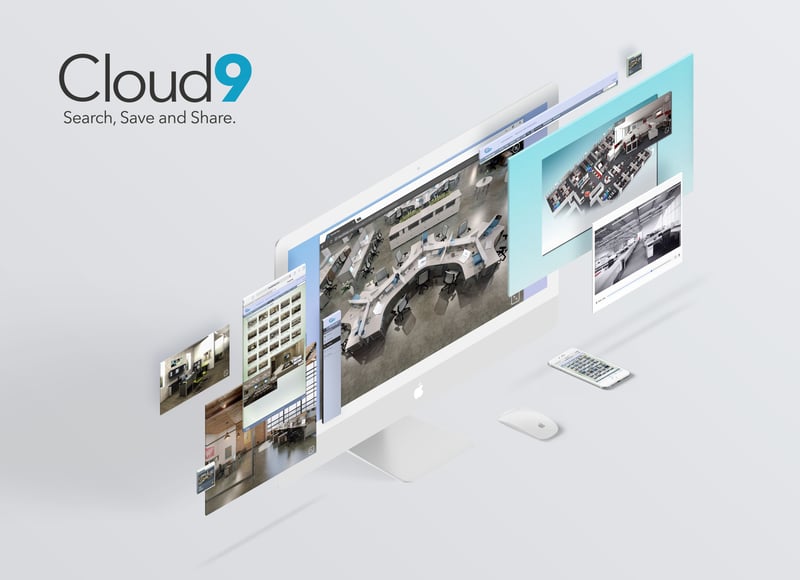 Q6: I'm sure it's hard to pick favorites, but are there any projects or virtual showrooms you are particularly proud of?
Yes, it is difficult but I would have to say the HON Workplace Community. This space combines everything you can achieve with our Infinite Showroom service plus the beautiful work done by our team.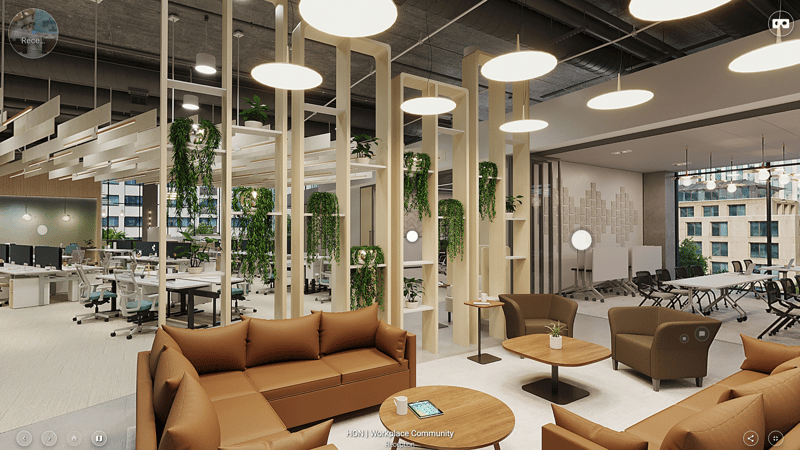 Q7: Any parting advice for those wanting to get started with a visualizations team? 
Anything is possible. Our team can materialize any concept you have in mind to surprise your customers and stand out from your competitors. Beyond working with a group of talented people, you will have direct access to those who have been in the field for years and will come alongside you and your team to help you reach your sales goals. Don't hesitate to reach out today so you won't continue missing out on closing sales faster and take full advantage of skills and expertise that are just a phone call or email away.
Thank you Harony for sharing all one needs to know when partnering with a visualizations team. To learn more about the KiSP Inc. Visualizations Team, click here to check out their online portfolio and for a list of all the services they provide. If you're hoping to get in touch and get started on your project, you can schedule a time to chat with the team here.