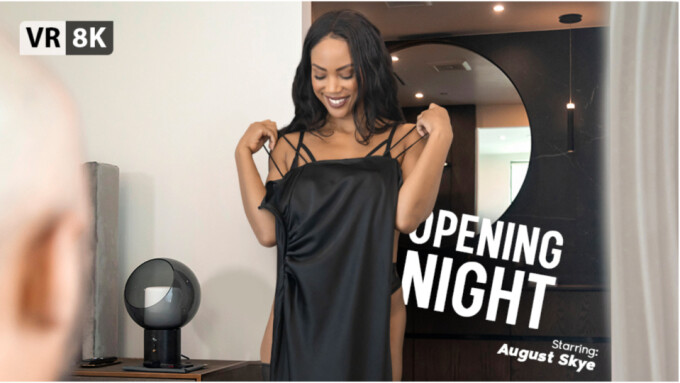 LOS ANGELES — August Skye prepares for an adventurous evening in "Opening Night" and Jessica Starling is an alluring tour guide in "Open Borders: Warming Up in Alaska," a pair of new fantasy scenarios from VR Bangers.
"Opening Night" places the viewer in the role of Skye's impatient boyfriend as she gets ready for their date. Skye possesses "a truly alluring smile and a round butt that is close to being perfect in every aspect," a rep said. "However, even though she knows you're waiting for her, new things she has to deal with keep showing up and seemingly ruin the entire purpose of the night. But is this evening done after all?"
"The storyline was crafted to make the process of waiting for one's girlfriend "way sweeter," noted Ivan Harbakon, VR Bangers producer. "We're reminding our fans and members that they aren't waiting for nothing. August and her curves were just ideal for this release and we're glad that we chose her for this role. Wear your VR headset and check her out for yourself."
A trailer and additional details about "Opening Night" can be found here.
"Although this time of year is hot in most countries around the world, the universe of virtual reality porn is governed by different rules, and here you won't find any limits or restrictions that would prevent you from fulfilling your sexual fantasies — no matter where you are on Earth or what time of year it is," noted the rep.
"Open Borders: Warming Up In Alaska" places the viewer on "a cozy and comfy journey."
"Indeed, you're getting warmed up right with the help of a busty VR blonde, Jessica Starling," the rep continued. "Wear your VR goggles to get teleported directly to snowy Alaska where a cup of hot cocoa is the best thing that could happen to you — and where the above-mentioned hottie will make sure that you feel comfortable and loved right next to her."
Harbakon observed that VR Bangers members appreciate girlfriend experience scenarios.
"That's why we release a VR sex experience like this from time to time, and this time we made it a part of our regular series, 'Open Borders' … I am sure that members of the VR Bangers family are going to appreciate it," he said.
Find a preview and more information about "Open Borders: Warming Up In Alaska" here.
Follow VR Bangers, August Skye and Jessica Starling on Twitter.