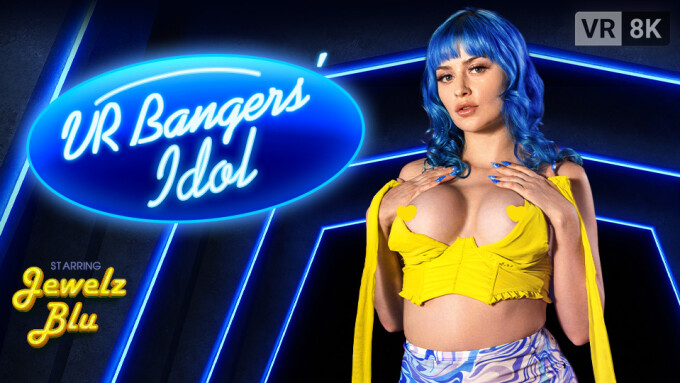 LOS ANGELES — Jewelz Blu headlines "VR Bangers' Idol" and Katie Morgan toplines "Meet the Fuckers: Alternative Version," a pair of newly released parodies from VR Bangers.
In an erotic parody of "American Idol," Blu is demonstrating her skill set for producers as she seeks to secure a spot on the popular show. "She is so determined to win the contest that she chooses to use another set of her skills to change the minds of the juries and convince them that she's actually worth giving a chance after all," a rep said.
"She's cute, she's sexy and we're sure that she'll give you some amazing views," the rep continued. "Jewelz is such a beautiful girl; you're going to fall in love with her for sure."
VR Bangers producer Ivan Harbakon described Blu as "an incredibly talented person even though she doesn't really know how to sing."
"Wear your VR goggles and join this beautiful vixen with stunning blue hair," he added. "You're going to love it, I am sure of it." 
The latest installment of the studio's "Meet the Fuckers" series stars Morgan as a tempting MILF in a family where "anything is possible," and is described as an alternative version of the prior episode featuring Chloe Temple and Morgan.
"This time, it is just you and Katie and this hot MILF still has a lot to offer," noted the rep. "Something tells us you're going to have a whole lot of fun with this VR experience."
Harbakon noted that the concept of "Meet the Fuckers" had been planned for some time, but the studio had simply waited for the right stars. Temple and Morgan formed "the perfect team for the job," he said. "It turned out great. Now we want all our fans and viewers to pay a visit to this kinky family. I am sure everyone will find something for themselves in all three different episodes. Who would say 'no' to Chloe, Katie or even both at once?"
Explore "VR Bangers' Idol" here, and find "Meet the Fuckers: Alternative Version" here.
Follow VR Bangers, Jewelz Blu and Katie Morgan on Twitter.