ComeCloser is a cutting edge virtual reality porn game that gives porn gamers all the feels in all those special places. In the world of VR sex games, ComeCloser crushes expectations.
Its a super immersive experience. In this ComeCloser sex game review, we dive into the ComeCloser premise, break down the quality of graphics and technology, as well as comment on the overall experience.
So, is ComeCloser worth paying for? In short, yeah, this shit is banging awesome.
About ComeCloser – The Sensual VR Sex Game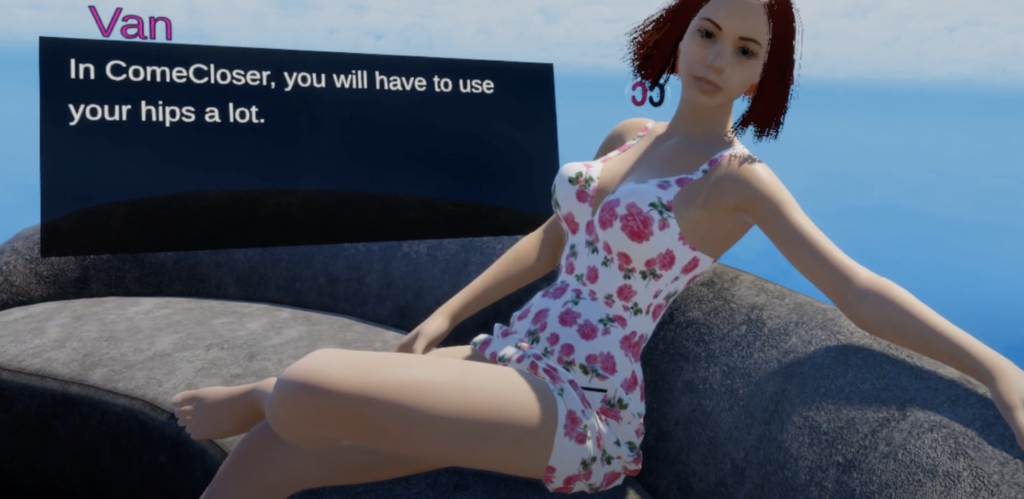 There's something intimately surreal about ComeCloser, a virtual reality porn game that's so immersive you lose track of your reality. When it comes right down to it, virtual reality porn games are the future of the XXX gaming world.
Because that's truly the end game for both porn games and virtual reality porn. You experience an immersive reality that mimics real life challenges and resulting sex once you overcome those challenges. You get to ditch the annoying bar scene and chill at home with a sexy girl. Yeah, the "new normal," I'm totally in! Hey, don't judge me, if you're reading this review, we're the same, bro.
ComeCloser's unique approach by way of leveraging sensual, flirtatious fun, captivates at every corner of this VR sex game space. You'll use your hand to reach out and touch, caress, or gesture. And your girl, often set in a beachy resort, responds and engages in her own way, through a chat window.
There are lots of settings, toys, clothes, and more that are all customizeable.
The virtual reality in ComeCloser allows for real-life physical simulations. You can carress her thighs at one point and spank her ass at another. You set the tone to fit your personal sexual kinks.
The sets are well-designed, but seem to intentionally operate in the backgound for a distraction free encounter. In other words, the girl remains the centerpiece of your perspective throughout every second of the ComeCloser virtual reality experience.
Depending on the ComeCloser girl you choose, expect a myriad of personalities. But nothing is over the top. Instead, ComeCloser girls represent a more authentic flirting experience.
What I love most about ComeCloser is that all the girls are charismatic. Many VR porn games throw hypersexuality at you, which isn't exactly wrong, but it puts personality on the bench. ComeCloser girls flirt, they pull you in, they use personality to entice you. Its super erotic and the sexual simulation is more in line with a real world experience. I mean, "real world" in the sense that you just got incredibly fortunate. But all the same. ComeCloser girls are freaking hot.
ComeCloser Sex Game Technology Review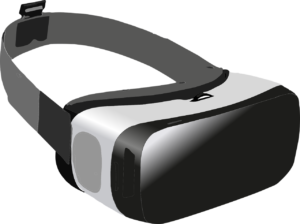 Unfortunately, ComeCloser isn't Mac ready (like many VR sex games). That said, given the growing popularity of this game, I'd assume that's in the works. For now, it's a PC game. ComeCloser is a big game and leverages a virtual reality experience, so you'll need a good PC setup to have fun. The creators recommend Intel i5 or bigger along with a graphic card that suits needs – GTX1080ti/RX5700 minimum.
ComeCloser works on the following VR headsets:
HTC Vive, Pro, and Cosmos
Oculus Rift/S and Quest 1&2 with PC
Oculus Quest
ComeCloser Graphics – High-Quality, Immersive
High-end, supremely sexy graphics fuel the ComeCloser virtual reality experience. Often soft and sensual girls appealing to your primal needs inside rooms and outdoor experiences laden with gentle, non-distractive shadows. It's an incredibly immersive experience.
There's a 3D porn game feel to the experience overall, but that's a given in virtual reality porn. However, ComeCloser's use of gentle shadows that often stretch towards the main subject achieves this effect as optimally as we've seen in a VR porn game.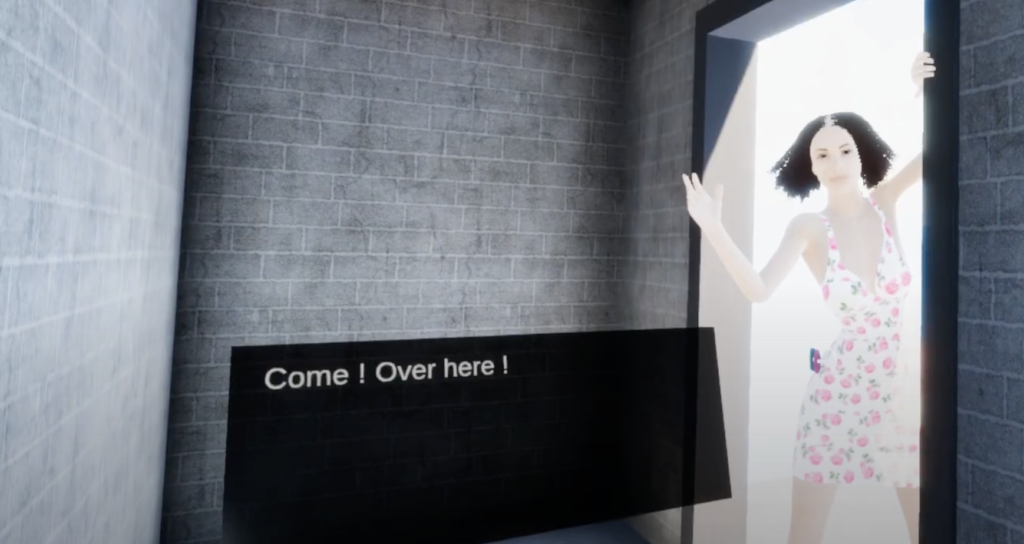 ComeCloser's chat hooks and seduces you at every corner. At times, you feel as though you might lose the girl of your dreams, springing you into sexually driven actions.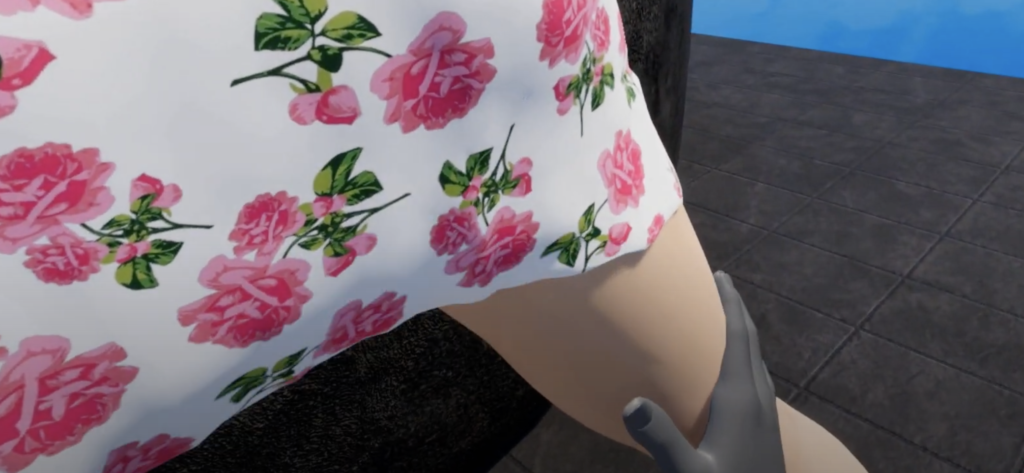 In ComeCloser, you reach out and touch the girl of your dream and feel the experience through stimulations sent to your VR unit. It's mindblowing, sexy fun.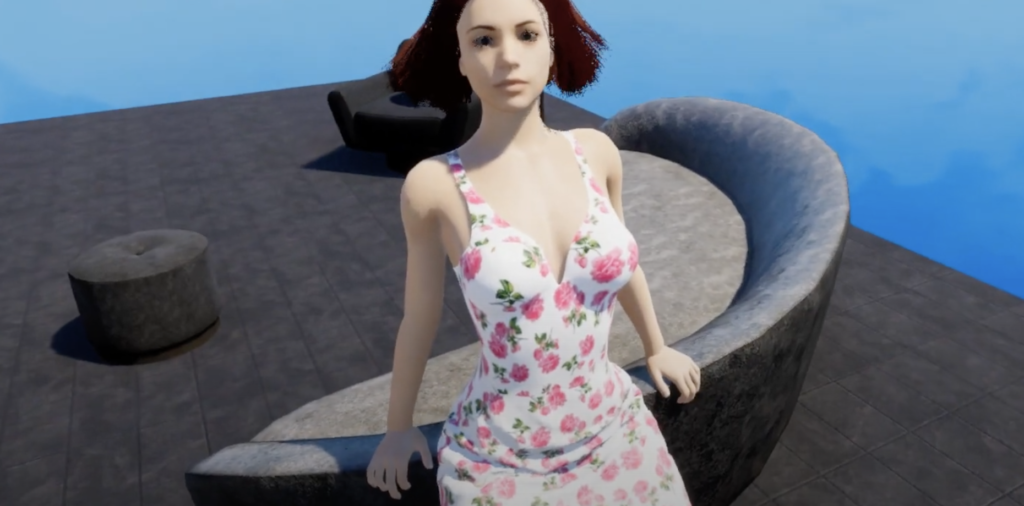 The girls position themselves in ways the pull you into a world where your every fetish and kink await.

Soft, elongated artistry creates a virtual reality porn setting that's above and beyond the usual.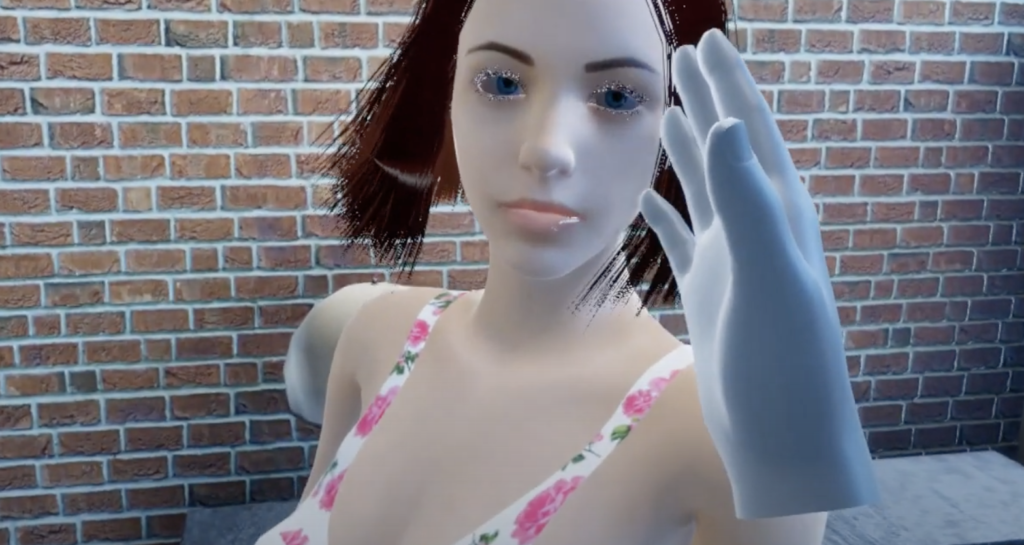 Gently stroke her hair in a private room. You emotionally attach prior to penetration.
ComeCloser Pricing
Unlike our free porn game library, you'll need to pay something to experience ComeCloser's virtual porn reality world. And that's OK. Paying for quality is a good thing, it leads to improved porn game products.
Pricing is based on levels of access. ComeCloser has a Discord page, uncensored versions, polls, and Quest 2 standalone versions which influence pricing.
There are three membership prices that come in at $6, $12, and $25. All monthly.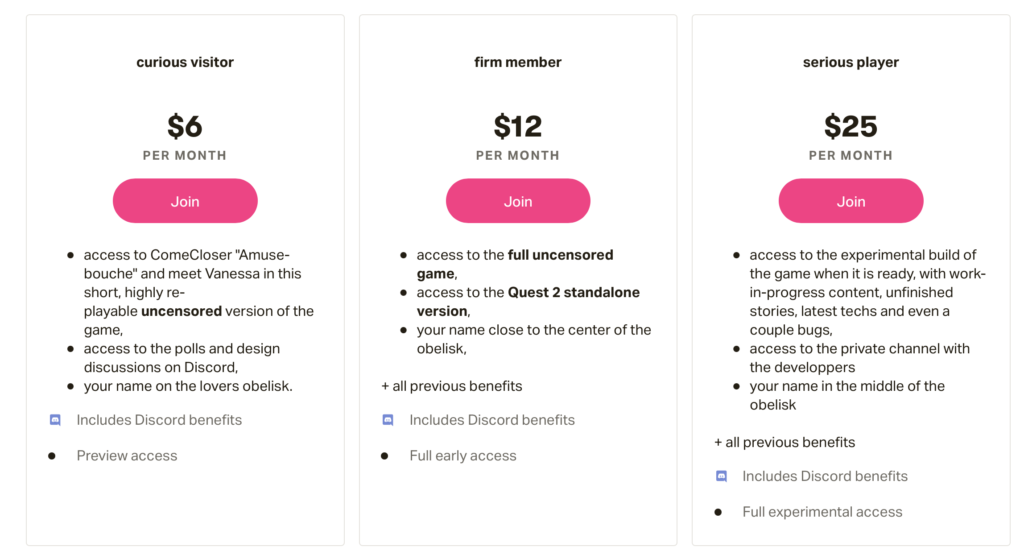 Download ComeCloser here.
Final Thoughts
ComeCloser is an awesome and sexy virtual reality porn game. Its soft, sensual graphics infuse the experience with innocence, which makes the sexual interactions more intense. You can experience touching of hair, spanking of asses, or massaging of body parts. It all has the real feels, my porn game freaks.